PediaSure® FormulaProduct Formulation
Positive Usage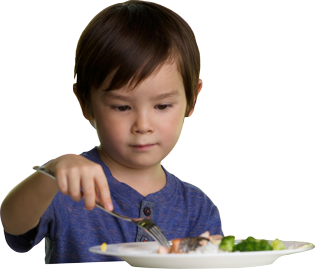 Formulated with Sure3 System, PediaSure® Complete formula provides complete nutrition for children age 1-10 years to help catch up on growth, especially for picky eaters who typically:
eat very little
accept/eat only a few types of food
eat few fruits and vegetables
refuse to try new foods
or prolong mealtimes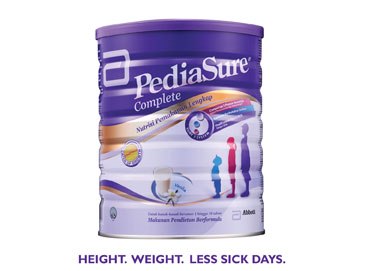 The formula is also suitable for children who:
are active in physical activities
need a nutritious snack or supplement
Features
New Triple Protein Complex
3 protein sources – milk  protein concentrate, whey protein concentrate and soy protein isolate provide scientifically balanced blend of essential amino acids to support growth and development.
Advanced Carbohydrate Blend
Different types of carbohydrate to promote maximum digestion and absorption for balance energy release.
Unique Fat Profile & MCTs (with DHA & AA)
Supports nutrient absorption and development of the mind.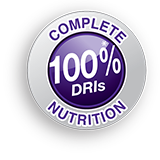 PediaSure® Complete meets or exceeds 100% of the US Dietary Reference Intakes (DRIs) for protein and 25 essential vitamins and minerals in approximately 1000ml for children ages 1-8 years and 1500ml for children ages 9-13 years old.
Contains FOS, a non-digestible dietary fiber that is the preferred food of good bacteria.
Added with live cultures Bifidobacterium lactis and L.acidophilus, which are good bacteria that helps to improve the gut system.
Contains 50% more calories than ordinary milk to provide extra energy for growing up children. (Calorie Density- 1 kcal per 1 ml)
Suitable for lactose intolerance.
Promote catch-up growth of picky eaters in 60 days1
Improve nutritional status of picky eaters. in 90 days1
Reduce the number of sick days by 30% in children age 3 to 4 years old2
Availability
Powder : 400g, 850g and 1.6kg (Vanilla only)
Flavor : Vanilla and Chocolate
Product information is subject to change. Please refer to the product label or packaging for the most current information.

1. Maintain no 1 reference
2. Huynh DT et al. J Hum Nutr Diet. 2015;28:623-35. Complete nutrition with high protein, calcium, vitamin D, iron & source of zinc. As part of daily diet. Individual results may vary.